AFA 4000 now available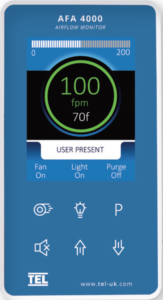 TEL and HSE are proud to announce the new AFA 4000, available immediately throughout North America. The AFA 4000 series offers all the functions and reliability of the market-leading TEL digital airflow monitors with a sleek, modern design that improves the user experience and offers enhanced options for visual indicators of fume hood airflow conditions. It is configurable with all the installation options of the AFA 1000 series, including semi-flush and surface mount, post-mounted and inline sensors as well as with a velocity probe for duct monitoring. There are new options for custom designs, but any user familiar with the installation and calibration of an AFA 1000 already has the knowledge to fully operate an AFA 4000.
Contact HSE today, at info@hollandsafety.com or 847-680-9930, for pricing and availability options.